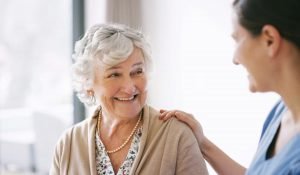 Daily living can grow more difficult as we age, and for some, memory is among these challenges. In fact, today one in nine Americans over age 65 has been diagnosed with Alzheimer's disease. This highlights the growing need for quality memory care facilities that allow residents to age in place, feel secure, and remain social and active while receiving the care they require. At Rivertown Ridge, residents and their families find peace of mind thanks to Lighthouse Memory Support, our memory care program for individuals living with Alzheimer's disease, dementia, and similar conditions.
Designed for Memory Care
With 30 memory care apartments on our 10-acre Rivertown Park campus, residents will find comfortable studio accommodations and shared suites designed with their needs in mind. A focus on environmental design creates a safe, secure environment that is more easily navigated by individuals coping with memory challenges.
The memory care facilities on our campus include a secure courtyard where residents can enjoy sunny days and the warmer months. Craft and activity rooms and gathering spaces offer opportunities to stimulate the mind and spend time with friends and family members, while a private dining room makes it easy to enjoy a delicious meal. A sensory room is included in our memory care facilities as well, where residents can engage all five senses. With gentle sounds, scents, lighting, and tactile and visual sensations, it's the ideal place for cognitive stimulation or a calming retreat.
Specialized Care from an Expert Team
Every Lighthouse Memory Support staff member has received specialized training in Alzheimer's disease or dementia, preparing them to provide the highest level of care 24 hours a day and seven days per week. From medication reminders, administration, and supervision to helpful reminders and verbal cues, support is always available when it's needed most.
At the same time, every resident receives a fully customized care plan to provide the exact level of support they require. Our team will work with residents and their family members to assess current needs, identify opportunities for improvement, and plan for the future. Along with our innovative programming, social activities, and on-site wellness center, residents find everything they need to stay healthy, engaged, and mentally active.
Resort-Like Amenities
One of our community's most important goals is to provide the experience of living at home – only better. Every aspect of our community is designed to create a resort-like atmosphere for stress-free living. Residents can take advantage of a number of amenities based on their interests and abilities, including:
Crafting and other hobbies
Recreational programs
Community events
On-site movie theater
Neighborhood community center
Exercise room
Fitness classes
Pool
Library
When family visits, the community's beautiful grounds provide the perfect place for a relaxing stroll. Thanks to healthy meal plans, there's no need to worry about grocery shopping, cooking, or cleaning up. Residents can also take advantage of community events, lectures, and more to keep the body and mind active, which is especially important during memory care. And because our community offers independent living and assisted living alongside memory care, there's no need to leave spouses, friends, and favorite activities as needs change with time.
High-Quality Memory Care
Not all memory care facilities are created equal. From our warm, welcoming community to our expert-level care for Alzheimer's disease and dementia, Lighthouse Memory Support at Rivertown Ridge provides the care residents need in a one-of-a-kind senior living environment right here in Wyoming, MI. To learn more about our memory care services, contact us online, or call 616-805-3989 to schedule a tour and speak with a representative today.