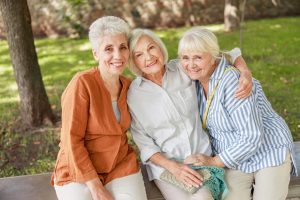 To provide our residents with the high-quality care they deserve, Rivertown Ridge has adopted a philosophy that covers every aspect of a rich and fulfilling life. We base our care on seven dimensions of wellness. These include physical, emotional, social, intellectual, spiritual, environmental, and occupational pieces that are reflected in our programming and amenities, giving each resident all of the tools necessary to live life to the fullest.
Physical
Helping seniors to lead an active lifestyle is paramount in their overall wellness. Across our large campus, Rivertown Ridge offers several recreational programs and activities that keep our residents energized and engaged, such as:
A community fitness center that features an exercise room, swimming pool, hot tub, and tennis court
Group fitness classes and personal fitness training
Two miles of outdoor walking and hiking trails
Gardening areas
Emotional
Providing assistance through life's challenges is an integral part of our care. Our on-site Wellness Center offers mental healthcare services that allow residents to receive help swiftly and easily. Part of these services also includes 24/7 support, giving our community members peace of mind knowing that there is always someone there for them – regardless of what they're going through.
Social
Rivertown Ridge believes strongly in encouraging social interaction to bolster the overall wellness of our residents. That's why our schedule is packed with enjoyable activities that appeal to people with all types of interests. There are various gathering spaces where residents can spend time together, such as the outdoor courtyard, private pond, and Copper River Saloon. Craft rooms and our on-site movie theater also offer opportunities for social interaction.
Intellectual
Our engaging educational programming helps residents to continue to challenge their minds and stay sharp. To stimulate the intellect and support brain function, we offer a range of activities, including classes and lectures hosted by speakers and educators that cover a broad range of topics. Residents can also check out books from our library and complete puzzles in our activity rooms to keep their minds active.
Spiritual
We welcome people of all spiritual backgrounds on our campus and offer opportunities for them to pursue their faith. Our Wellness Center offers spiritual meditation space where residents can practice their religion and channel inner peace. Our in-house day spa and hiking trails also provide opportunities for residents to clear their minds and connect with something greater than themselves.
Environmental
Our campus is located on a vast 10-acre campus that is integrated into the beautiful landscape surrounding it. Aside from exploring nature, gardening, and relaxing in the fresh air, Rivertown Ridge is also committed to educating residents on how their health is tied to the environment. From partaking in volunteer opportunities to simply remembering to recycle, this dimension of wellness dives into how a resident's interactions with the world relate to their overall health.
Occupational
Moving into a senior living community doesn't mean residents can't continue to pursue their talents and skills. Rivertown Ridge offers activities that enable residents to keep enjoying their passions, practicing their values, and leading the lifestyle they love. From lectures and classes to crafts and recreational activities, residents will find something on our campus that helps them feel connected to their greater purpose in life.
A Full Continuum of Care
Through our seven dimensions of wellness and comprehensive programming, Rivertown Ridge ensures each resident has an enriching experience that elevates their overall quality of life. In our lively environment, residents have the freedom to form their own schedules around their favorite hobbies and passions. To learn more about Rivertown Ridge or to schedule a campus tour, please contact us today.