Resort-style senior living awaits you and/or your loved one at Rivertown Ridge of Wyoming, Michigan. We designed our new retirement community to provide the best possible lifestyle for our residents, including comfortable senior apartments and a full array of resort-style amenities and services to meet the unique needs and activity level of each of our residents. We welcome you to our community and encourage you to learn more about us and how our caring staff fosters the well-being of our residents.
About Our Background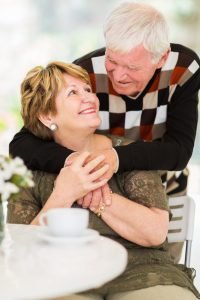 Redstone Homes, in collaboration with Franciscan Advisory Services, Inc., developed premier retirement living that's nestled in the heart of the 120-acre Rivertown Park neighborhood. Surrounded by nature, Rivertown Ridge sits on 10 acres of beautiful property.
Redstone Homes is known for being a premier builder in West Michigan and noted for its quality workmanship, using the inherent attributes of the land to determine site layouts. You'll see this reflected in the detailed construction of Rivertown Ridge.
Since 1894, Franciscan Advisory Services has proudly cared for generations of families. Headquartered in Lemont, Illinois, it manages Rivertown Ridge by utilizing its 125 years of experience providing quality senior living and compassionate health care services.
About Our Senior Apartments
Conveniently located in Wyoming, Michigan, our senior apartments combine exquisite living spaces with the natural beauty of our campus to create the ideal retirement setting. We strive to provide an atmosphere that encourages our residents to eagerly meet each day with the services and experiences they enjoy. Our community features multiple housing options to suit the needs of each resident.
We offer spacious, open-concept living spaces with one- and two-bedroom senior apartments with five different floor plans available. Our beautifully designed apartments and resort-style services provide independent living for active seniors who want to age in place. Enjoy a maintenance-free lifestyle with the added convenience of innovative, engaging social activities, multiple dining venues, and numerous services and amenities to meet a wide array of wants and needs.
About Our Beliefs
We offer a homelike atmosphere with our senior living apartments that are developed with the latest research in mind. Our compassionate, attentive staff contribute to the overall quality of life of our residents and help create a unique environment that nurtures a sense of community while promoting individual independence. One of the most distinct aspects of Rivertown Ridge is our location. It was intentionally designed to meet the need for intergenerational housing within a single neighborhood.
Rivertown Ridge allows family members at every stage of life remain close by while still living the life that best suits them. It's our continued belief that fostering strong, fulfilling relationships is a key component to lasting health, happiness, and overall wellness for the seniors in our community.
About Our Mission
We know many individuals look for a senior living community with the best features, so we carefully chose the resort-style amenities, dining options, and services provided. By offering a large assortment of amenities and services, our residents can live independently longer without the worry of living alone.
It's our mission to offer our residents the tools necessary to improve their quality of life and continue their pursuit of the seven dimensions of wellness. We truly believe in ensuring every resident has access to the activities and services that allow them to find happiness.
Welcome Home
We believe senior living should be tailored specifically to each resident. With thoughtful consideration for their varying needs, we're proud to contribute to the overall quality of life of everyone who calls Rivertown Ridge home. Our goal is to give your loved one the attention they deserve. Contact us at 616-805-3989 to learn more about our senior living community today.