Health & Wellness
- June 1, 2022
3 Essential Summer Safety Tips for a Healthy Season
Summer is almost here, and for Michigan residents, that means spending as much time outside as possible! After being cooped up all winter long, it is refreshing to venture outdoors and enjoy the warmer temperatures with friends, family, and loved ones.
Whether you get together for a family cookout, spend the day relaxing by the pool or enjoy tending to your garden, summer is all about soaking up the sun. It's easy to get caught up in the excitement of the season, but you want to make sure you practice safe habits.
Resident safety is our number one priority at Rivertown Ridge, a senior living community in Wyoming, Michigan. We offer various amenities that include outdoor engagement opportunities, so we are sharing essential summer safety tips to help you enjoy a safer and healthier summer season.
Tip #1: Stay Hydrated
According to Medical News Today, "most of the human body is water, with an average of roughly 60%." Staying hydrated is essential to most functions of the body, including regulating body temperature. If you are not drinking enough water and are spending a lot of time out in the heat, your body will not be able to cool itself down properly. This can dramatically increase your risk of hyperthermia.
Additionally, our body's ability to conserve water decreases as we age as well as our feeling of thirst. As a result, this increases the risk of dehydration among older adults, especially during the summer months.
The good news is you don't have to solely rely on drinking the recommended eight cups of water a day to stay hydrated. Some fruits and vegetables also have a high water content to help you stay hydrated and mix up your diet!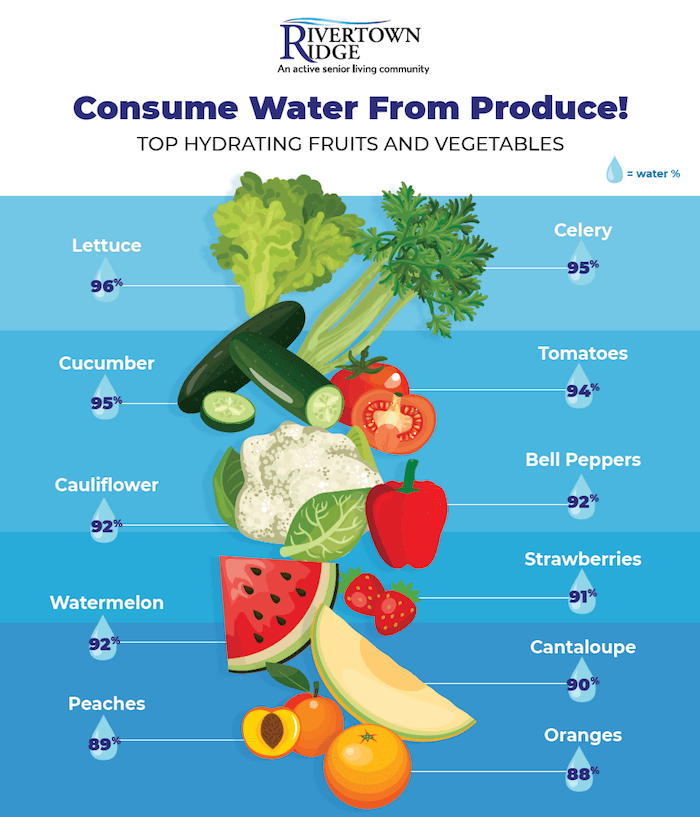 Tip #2: Wear Weather-Appropriate Clothing
It may seem contradictory, but covering up can actually help keep you cooler when you spend time in the sun. But, of course, this is only true if you wear the right type of clothing.
To help keep you cool in the summer heat, wear lightweight, loose-fitting clothing that is light in color. Light-colored clothes reflect the sunlight instead of absorbing the heat like black or darker colors. Additionally, go one step further by wearing a wide-brimmed hat to keep the sun off your face, and sunglasses to protect your eyes and vision.
Tip #3: Apply Sunscreen
There are not many things worse than coming inside after a long day in the sun only to discover that your skin closely resembles a very ripe tomato. Not only is this extremely painful, but sunburn can also cause long-term damage to your skin. Unfortunately, "nearly 18% of older adults and 15% of sun-sensitive older adults said they didn't use any kind of sun protection regularly."
To prevent this from happening to you, an essential summer safety tip is to apply and reapply sunscreen whenever you will be exposed to the sun. This also includes cloudy or overcast days.
When choosing a sunscreen, opt for one that offers "broad spectrum" protection, meaning that it protects against the sun's UVA and UVB rays. Additionally, "make sure your sunscreen has a sun protection factor (SPF) 30 or higher." The higher the SPF number, the more protection you will have.
Water or sweat resistance is also important, especially if you plan on swimming or working up a sweat. Look for a sunscreen that offers water resistance, but remember to reapply whenever you get out of the water or at least every two hours.
---
The summer months are all about enjoying the warmer weather with friends and family, but you cannot do this if you are not also staying safe. Remember to listen to your body and take the necessary precautions to regulate your body's temperature and protect your skin.
If you would like to learn more about the activities, amenities, and services we have to offer at Rivertown Ridge and how residents enjoy the summer season at our community, we invite you to visit our website or contact a member of our team!