Rivertown Ridge is a comfortable senior independent living community. We offer interesting and exciting activities for residents to enjoy. We provide opportunities to explore personal goals, hobbies, and new interests. This makes it easy for each resident to enjoy life on his or her terms.
Select a floor plan below to view a live virtual tour.
To start your tour, simply "click" the play button located in the bottom left corner of your screen.

To stop the tour, simply "click" the pause button. You may continue the tour at any point.

You may also move around the room freely by clicking the "way-point" circles on the floor located throughout the home. Click and drag anywhere on the screen to navigate your field of view.
Advantages Of Living In A Senior Living Community
Residents in a senior living community such as Rivertown Ridge, appreciate a variety of advantages. For example, residents enjoy a resort-type lifestyle, complete with meal service, transportation accommodations, and opportunities to make new friends. This community provides a sense of well-being while also offering the level of care that each resident needs to stay safe and healthy.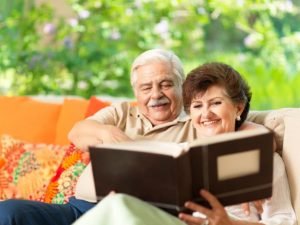 Some other advantages residents enjoy at Rivertown Ridge:
There are no homeowner association fees.
Maintenance free.
The cost of utilities is included.
Transportation to scheduled outings is included.
The cost of our flexible meal plan is included.
Living Spaces Of Our Community
At Rivertown Ridge, you get to choose an apartment with a spacious floor plan that fits your lifestyle. Choose a one-bedroom apartment with or without a den, and our two-bedroom apartments are available with your choice of five different floor plans.
Amenities Available At Rivertown Ridge
There are several on-site amenities for Rivertown Ridge residents to enjoy.
Residents looking for delicious meals can enjoy a visit to our contemporary bistro, our pub, or the formal dining room.
Residents eager to participate in physical fitness endeavors have access to the community's fitness center, pool, and tennis court. There are also walking and hiking trails, and our hot tub helps soothe tired muscles.
Mental stimulation is part of the experience at Rivertown Ridge with a fully stocked library with reading material, and there's also a movie theater for taking in a show on the big screen.
Social stimulation is supported by the facility's community room where residents have the option to gather and visit. The craft and activity rooms also offer opportunities for our creative residents to enjoy social interactions, and the pond is perfect for a little one-on-one time with a fishing friend.
On-Site Services That Enhance Quality Of Life
Quality of life is one of the most important details we focus on when creating programs for residents at Rivertown Ridge. We offer a variety of fun and interesting events and activities that contribute to our residents' social and emotional enrichment.
An on-site wellness center is available.
Residents who have a desire to give back to the community and enjoy socializing can participate in volunteer programs.
We have learning opportunities that residents may wish to explore that include lectures and classes by expert speakers and educators.
A Bit About The Rivertown Park Area
Rivertown Ridge is nestled in a charming area called Rivertown Park. The setting is serene and there are stunning views to enjoy in every direction. The area features plenty of foliage, and the wetlands provide an abundance of natural beauty. Residents can enjoy the mental and spiritual benefits of our natural surroundings as well as the physical and social opportunities that accompany exploring the great outdoors.
Contact Our Senior Independent Living Community Today
All these services and amenities work together to create a comfortable, happy retirement in the beautiful Wyoming, Michigan, area. Get in touch with our team at Rivertown Ridge to view the floor plans of our one- and two-bedroom apartments. If you would like to add your contact information using the contact form, someone will get back with you as quickly as possible. Or, to speak with someone right away, call us at (616) 805-3989.